Mentor
Colin Self
Mentee
Xenia Taniko
Mars Dietz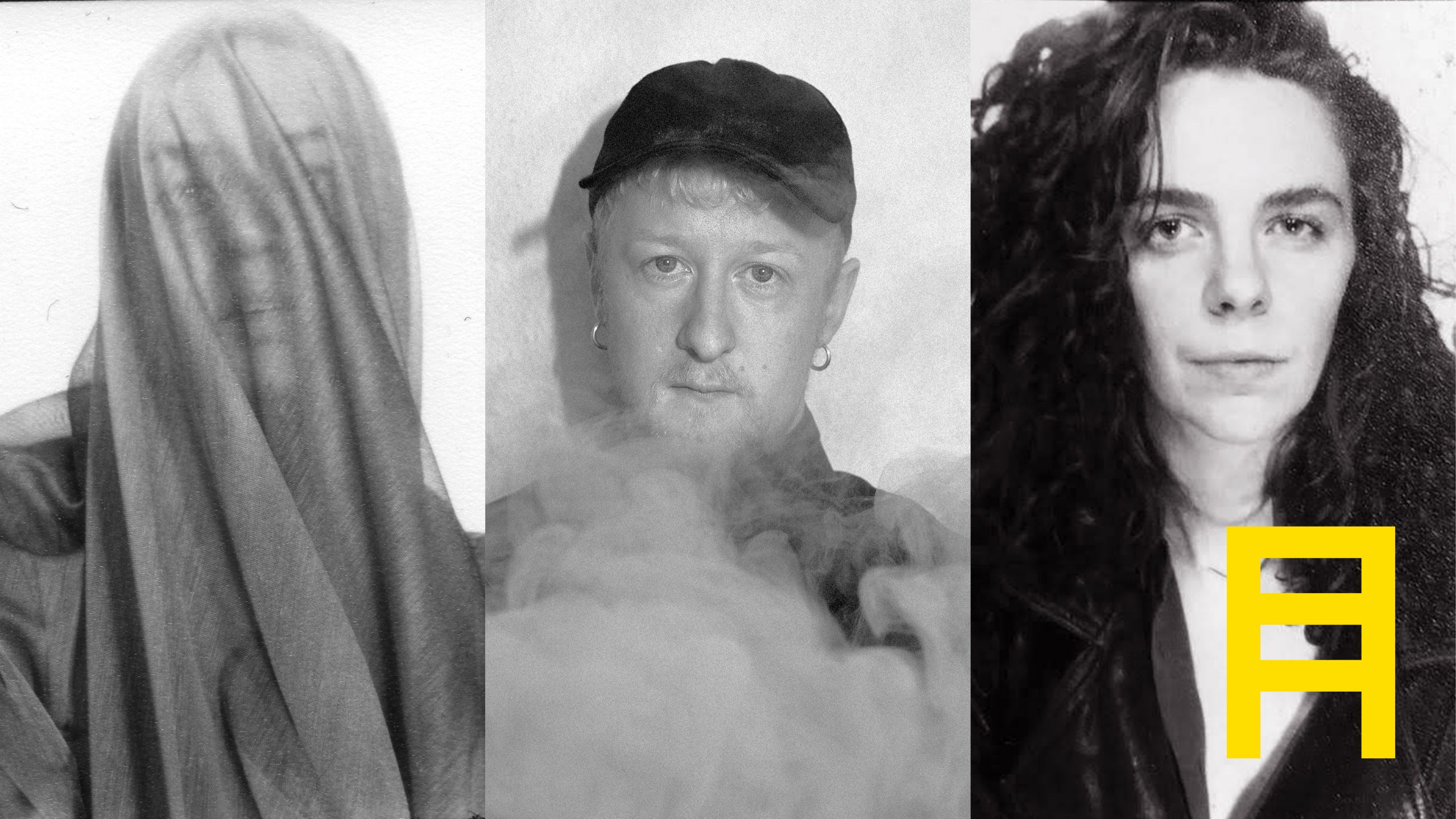 Interview
Xenia Taniko & Mars Dietz
Catch up with the Amplify Berlin April mentees Xenia Taniko and Mars Dietz who have been experiencing an unpredictable residency due to the lockdown situation and a long-distance guidance with their mentor Colin Self. As the live performance was a major part of both of their expectations, our trio will have the opportunity to come back in August for a second turn. So Stay tuned!
This week, Xenia and Mars interviewed each other in a ping pong fashion in addition of the tracks they've been working on this month, listenable below – enjoy!
Mars Dietz is an artist, composer, and sound designer from Brooklyn living in Berlin. Their hybrid background involves site-specific installation, DJ sets, writing, music production and other media in an intensively research-driven practice bent on historical analysis.
Their 2018 sound installation Freedom From Speech focuses on the primacy of the voice and testimony in the legal construction of human rights, using the principles of DJing to create a pastiche of quotations from interviews and youtube videos on rights discourses and coerced confession, along with electronic music. In 2019, they presented the six-channel performance installation shred the means using granular synthesis, emulations of tinnitus, field recordings and the narrative of Nadezhda Kutepova, an environmental activist from a formerly secret nuclear production city in Russia. Mars performs as a DJ under the name Sapphic Faggot as a member of the Berlin party BODYSNATCH and elsewhere in Berlin and around Western Europe. Since 2019 Mars has worked as a sound artist for choreographers such as Emma Howes & Justin Kennedy, Maque Pereyra, Sandhya Daemgen, and Lyllie Rouviere.
Xenia Taniko
… is a performer, choreographer and drummer based in Berlin. Their works speculate about the limitations of human embodiment and play with the societal norms that are inscribed in the body. Taniko uses body, voice, sound, props and costume to create affective, visceral and intimate performance pieces. On stage they explore disintegration of form through physical intensity and are interested in the potential of affect and emotion as a motor for creating new forms of knowledge and embodiment. Taniko's solo and collaborative pieces have been presented in theatres, galleries and festivals in Berlin, Europe and the USA. Their artistic practice is deeply influenced by cultures of collaboration and invests in building alternate creative communities. Mostly in dance and visual art contexts, they work with various international artists as performer and collaborator. They also host regular Kundalini Yoga and Meditation Community Classes and are an Audiodescriber for blind and visually impaired audiences.
XT: How did doing the Amplify residency during this particular moment in time of the COVID-19 Pandemic impact your creative process and outcomes of it?
MD: The types of coming-together that are enabled by theatre and concerts are unsafe for public health now, and thus not available. Its fascinating to see it revealed how much our art forms depended on adequate public health policy and healthcare. The remaining online and virtual platforms that are available to us now have radically different strengths than theatre or concerts – unique strengths that can also bring us together, and create bonds, albeit of a totally different kind. I was born in 1991, the same year as the internet – I remember the golden age of Habbo Hotel (a sims-like online meeting place) and Xanga and other online meeting places. During this month, while dramatically changing my life to practice responsible social distancing, I thought about how to manipulate electronic sounds to generate imaginative places. The sound is a place where we can meet. This spatial thinking is most evident in the piece I created for our radio show, which is 30 minutes of my original instrumentation, field recordings from freesound.org, and a sample of Arundhati Roy's voice. This sound piece is a landscape and a journey for a solo traveler, it layers another imaginative place on top of the present reality. Its developed as a kind of audio-walk so it could be enjoyed during the pandemic, and it was created, as I announce in the recording, with the feeling of grief.
MD: What happened for you since this residency kicked off directly when the pandemic started to hit home in Berlin? As a movement based artist and choreographer, how are you using your artistic tools to navigate this altered landscape, shaped and inhibited by the urgencies of public health?
XT: Wow, what a deeply turbulent time. Doing the residency during the public culture lockdown has been both so disorienting and such a gift. Working in the studio with others and creating performance is at the core of my work and my major creative mode… so having this physical togetherness fall away both in general and in the frame of this residency has been super challenging, personally and professionally.
To be in a process of creating during this time brought up lots of grief related to that loss that I think I wouldn't have experienced, had I just been sitting on hold like the rest of my peers. Not knowing when and how we'll all be able to be together in performance again is actually quite horrifying! But getting a break from performing and being able to focus on creating is a very rewarding opportunity that we're missing working under the productivity paradigm. And in a sort of synchronous twist, the deprivation of this moment has contributed to the creative intention that brought me to this residency in the first place, which was to translate my physical work into a sonic medium. I was literally forced to translate my creative tools and learn new ones. This situation adds a completely new urgency to finding other ways to convey the physical presence and experience that's evoked in a performance…
XT:What new things did you find during this time? What has opened for you in your process with making music? You have been working as a co-author and sound designer in the choreographic field, as well as a DJ. How do you relate to those modalities right now and when producing tracks in the studio?
MD: I often work in multi-channel audio during live work for choreographic pieces, to create uncanny illusions for the audience who is often seated. In the stereo compositions created at Amplify, the radio piece and track, I'm using the same principles of placement and illusion within the mix. Rather than the stage or the dance floor now I am thinking about the headphones and the ears of the listener as the stage. These interiors are very imaginative, like dreams, thoughts. With "Reverse" I'm thinking about repetitive memory. What might we remember now? We might remember being at dance parties. When I am looking out from the DJ booth during a set, I lock into very specific people to give me a sensation and information about the whole mix and the whole room. I have razor sharp memories of these second-long glances. Its hard to describe the depth of that connection, which is guided by the flow of the mix. So "Reverse" song occurs within a mental space, scanning back and forth like a broken record over a memory of watching one person dancing from behind the DJ booth. A memory of a scene in a club… hence the acid bassline!
MD: My next question for you is, what about the track you produced? How does the recording act as performance, or relate to it? When you welcome people into the performance space of this song, what are you welcoming them to?
XT: I think about Performance as projecting spaces with the body. When I'm performing in a room with an audience, I use my body in an intentional way to hold a specific temporal and textural space, for the audience and myself to be in. I open that space and I go inside. It's a bit like being the Corps de Ballet and the Soloist, the Band and the Lead singer at once. In the context of my recent work, it's definitely been about projecting inner spaces. With the vocal track "Seventeen Floors" I made during the residency, I'm doing something very similar. I wanted to create a track that not only evokes an emotional space but also an actual physical space. A sonic piece that takes the listener both into the presence of an environment as well as into the deep chambers of the sensation within.
I see "Seventeen Floors" as holding a reminder of the flesh that comes with the human voice, while at the same time completely transgressing that flesh and its boundaries, effecting a being touched without touch. I wanted it to feel both soothing and affective.
XT: What would you like to come out of this? Do you have ideas about where you wanna go next with your music? And what about aspect of performance would you like to develop, once we'll be able to get together again IRL and share public space in that way?
MD: I want my work to be heard by as many people as possible. Its backbreaking work to create a song, like building a house or landscaping a whole garden, and I don't want to just sit in that architecture alone. I am touched by every listener who comes into my spaces. It really moves me to share. Performing is an interesting question for me because I genuinely believe that the sound itself is a performer. I created a piece in 2018 called "Freedom From Speech" that worked with this concept. In that piece a DJ booth is set up on stage facing away from the audience, who is seated. I played a sound composition from the equipment on loop three times without anyone ever entering the stage. This was shown at FROM BREATH TO MATTER, a performance event series in Berlin. At this Amplify residency I wanted to challenge myself, I wanted to further develop a sharpness with the presence of my body as a dramaturgical decision that adds depth to the artistic experience. So I created a song with my own voice for the first time – we could not be on stage so I took stage there. The intention to work on performance was also one of the several reasons I was so excited to be paired with you, who is so strong as a performer. I don't yet know which specific decisions will come from the intention to perform, but we have time!
MD: Is there anything that happened, any tool, space, piece of advice, or other thing as part of the residency that led to a surprising development in your work?
XT: Something that I believe happened particularly due to the circumstances of COVID-19 that I definitely hadn't expected was to be in creative dialogue with people from the Program other than Colin and you. I recorded "Seventeen Floors" together with Philipp Hülsenbeck from the Amplify Team. Getting to know him and working with him on recording and mixing was super inspiring. The way we worked gave me a lot of new perspectives on recording and exciting ideas about creating on the interface between physical and virtual sonic spaces. I'm super interested in how a recording is already a virtual space that is shaped differently than the physical space that was recorded. We recorded in the Clubstudio of ACUD, the acoustics in that space are actually amazing for unamplified vocals. Working there most of the month and rolling around on the floor of the Clubstudio definitely is another thing I had not imagined! For "Seventeen Floors" I live composed the dramaturgy of the piece in real time and we simultaneously recorded both through the TC Helicon Vocoder and a stereo microphone in the space, which is what creates the spatial multitude in the track. We recorded layer on top of layer, so that I was able to harmonize and accumulatively compose with myself in real time – which is not something I could possibly do in the medium of movement. I also worked with Diane Esnault from the Team on a photoshoot to create imagery that translates the textures and sensations of the track visually and more performatively. I'm really looking forward to integrating all of these elements into live performance, once we'll all be able to come together on the stage again.
Tracks
Xenia Taniko & Mars Dietz
Radio show
Xenia Taniko & Mars Dietz